Work gloves
2021-07-30
Work gloves very quickly became essential equipment in the daily work of many people. They are one of the most frequently used types of personal protection. Moreover, in many professions, it is the hands that are most exposed to harmful factors. Taking care of them is therefore very important. Having the right gloves provides protection even in extreme conditions, so it is extremely important to make sure we have the right set for our tasks.
The standard Pn-EN 420 sets out the requirements for how protective gloves should be designed. In a nutshell, they should be functional, effective and not harmful to health. However, this does not mean that work gloves are universal. They can be divided by construction (single-finger, three-finger, five-finger, shortened fingers) or by protective properties (protection against chemical, biological, mechanical, thermal, electro-insulating, anti-vibration). When choosing gloves, take into account the type of work performed, the level of hand exposure and the hazards present at work.
We have prepared a list of all the gloves available in our store, along with their most important features.
Our range includes four main types of protective gloves:
Fingerless work gloves, which provide great freedom for manual work without the need to remove the glove when performing even the most complex tasks.

Framer work gloves, which have a partially open form. Exposing the thumb, index and middle finger allows the wearer to perform extremely difficult manual tasks while protecting the rest of the hand.

Full-fingered work gloves, which are the most popular type of gloves, provide protection for the entire palm area.

Women's work gloves, with full fingers, fingerless, framer, in smaller sizes (from XXS to XXL).
All gafer.pl gloves have a velcro placed id along with a white background on which you can sign the glove. We also offer full glove personalization. On special request, we can add your logo, which will be placed on the reinforcement in the knuckle area and on the velcro in the wrist area.
If you are still unsure of the exact gloves you need after reading our overview, you can talk to our team who will help you find what you are looking for.
Lite gafer.pl & lite black edition gafer.pl
Gafer.pl lite model is our basic model of work gloves.
The gloves are dedicated for light and precise manual work.
The lite version, so called "slim fit", ensures a perfect fit to the hand.
Durable - the parts most exposed to abrasion are reinforced with additional material and double stitching.
Lightweight - the outer part is made of thin, breathable material.
Terry cloth - material that increases the absorption of sweat from the forehead during hard work.
grip gafer.pl & grip framer gafer.pl


An improved version of our gafer.pl brand gloves.
Grip version - has an anti-slip silicone coating on the inside.
Durable material - double seams and reinforcements in strategic places.
Terry cloth - material used to wipe sweat.
Lightweight and elastic - adapts to the hand.
COMFORT FIT™ & COMFORT FIT™ FRAMER
& COMFORT FIT™ FINGERLESS
Flexible - contoured fit adapts to hand movement.
Durable - double layer of durable synthetic leather reinforced with double stitching.
Lightweight - breathable fabric.
Insulating - neoprene lining at wrist.
Comfort Fit 0.5 High Dexterity Glove


Lightweight - 40 g.
Durable - lined with synthetic leather on the inside and double seams.
Soft and flexible - the knuckles are lined with airprene, which draws moisture out.
Uniform design - black material.
Interreact technology - ensures adaptation to work with touch screens.
PROTECTOR™ 3.0 HEAVY DUTY
& PROTECTOR™ FRAMER 3.0 HEAVY DUTY
Extremely durable - protected with an extra layer of amortex that protects against abrasions and cuts with specially routed seams.
Maximum safety - additional shields protect the back of the hand.
Breathable - the material used is breathable.
Leather Grip™ (V1.3) Heavy Duty
Grip™ Framer (V1.3) Heavy Duty
Durable - specially selected double grain goatskin leather that gives special protection when working with rope, cables or stage construction.
Breathable - the back of the glove is made of a lighter material, minimizing the risk of overheating.
Flexible - conforms to the hand for unrestricted movement.
Rope Ops™
Durable - dedicated to rope handling, thanks to the use of armotex where abrasion is greatest and specially selected goat leather along with double stitching.
Breathable - the back of the gloves has a ventilation system.
Soft and flexible - the knuckles are lined with airprene which draws moisture out.
Phoenix™ Heat Resistant Glove
Heat Resistant - Using world-class DuPont Nomex technology throughout the glove, it can withstand temperatures up to 250 degrees Celsius for 30 seconds.
Durable - made from abrasion resistant double grain goat leather.
Vital - thanks to special padding with double stitching.
Tested - Level 2 according to EN407 tests.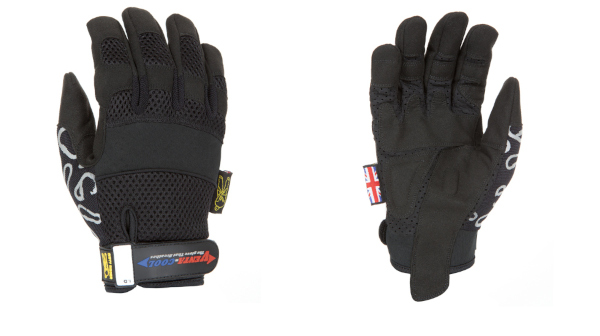 Venta-Cool™ Summer
Breathable - 80% more air permeability than other gloves.
Durable - two layers of synthetic leather on palm.
Lightweight and flexible - adapts to the shape of the hand.
SlimFit™
Most popular with women - sizes start at XXS.
Lightweight and comfortable - close fit adapts to hand movement.
Durable - synthetic leather and special durable embossing on the inside.
Specialized - the index finger can operate touch screens without removing the glove.
Recommended
44,99 zł31,49 zł
44,99 zł31,49 zł