MAX gafer.pl white gaffer tape
gafer.pl MAX tape is finally available in white. Hope you like it ;)
Roll of 50 mm x 50 m, white, matt, cloth tape.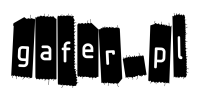 Easy return of products within

14

days from the date of purchase without giving reasons
Gafer.pl tapes are high quality - they are densely woven, deeply matted, strong, yet thin (290-300 mic). Tapes are PE coated, which allows to use them also outdoors. MAX version uses stronger adhesive. During the tests, however, the tape did not leave the adhesive on the surfaces from which it was torn. Like most gaffers, the tape can be easily torn in your hands.
If you work at the stage (riggers, sound, lighting, FOH, monitors, etc.), at the festivals, on film sets, in the theater or television studio, consider gafer.pl MAX. This is a really good tape.
Do you want to read about the test of gafer.pl MAX tape?
Adhesive lifetime: 1 year from date of purchase.