2-Cell AA LED gafer.pl flashlight
Krzysztof Białobrzewsk "the flashlight's designer" is proud to present gafer.pl LED flashlight. It's not an ordinary flashlight, it's a flashlight to work on the stage!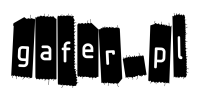 Easy return of products within

14

days from the date of purchase without giving reasons
It is cheaper in a set!

55,00 zł
(Cheaper in the set by 5.00%)
52,25 zł
See the set
What is expected from the flashlight that is used during the disassembly at night? It has to light, not too much, but to make see things. The battery can not discharge every now and then. And the battery must be of those that are always at hand. As if its fells into a puddle it cannot be flooded. He cannot clog with dust. In addition, it must be easily operated with one hand, and it cannot get scratched if you need to hold it with your teeth.
Well. Here it is! gafer.pl flashlight - CREE XPE LED used as a light source. It lights for over 10 hours with one set of batteries. The batteries are 2xAA (big sticks), available in a wired or wireless case. Diode and access to the battery protected by a rubber gasket. Small, light and handy aluminum housing. The switch works easily using "click".
Three strong, medium and strobe lighting modes. All these marvels come with a perfectly matched holster/case/cover (mounted on the belt). Well, you can not find a better flashlight, you just cannot.
Specification:
– light source: CREE XPE,
– voltage: 3 V,
– light intensity (lumens): 150 lm,
– lens material: PC,
– housing material: Aluminum Alloy,
– battery type: 2-Cell AA battery (excluded),
– run time High: 10 hours,
– effective range: 80 m,
– dimensions: 15,0 x 2,5 x 1,6 cm,
– weight: 56,5 g,
– modes of operation: Mid/High/Flash,
– LED operation time: 100 000 hours.
Instructions:
The flashlight is equipped with a Multi-Mode switch - every time you press the ON/OFF switch quickly, the mode changes from High (100% power) to Mid (30% power), and then to Flash (stroboscope).
Warning:
Corrosive solutions or gases may leak from any batteries. If the flashlight is not used frequently, remove the batteries and store them separately. Use alkaline batteries manufactured by recognized brands. Follow the battery manufacturer's instructions for proper battery handling, storage and disposal.
This is not a toy for children.
Danger:
Do not direct the flashlight directly into your eyes, it may damage the retina.
2 years guarantee.
The guarantee does not apply to normal material consumption, exhausted batteries, battery leakage, LED burnout or LED module failure.