1-Cell AA LED gafer.pl flashlight
We present our latest child - a reliable, handy gafer.pl LED flashlight designed specifically for working on the stage.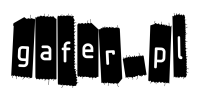 Easy return of products within

14

days from the date of purchase without giving reasons
It is cheaper in a set!
51,98 zł
(Cheaper in the set by 5.00%)
49,38 zł
See the set
There are many flashlights on the market, but only this one was designed by a sound engineer who knows what he needs when he works on the stage - MSc Eng. Krzysztof Białobrzewski "the flashlight's designer"!
What battery will you always find somewhere working on the stage? Big stick, or AA - is in every wired or wireless case. That's why our flashlight is used with such a battery.
What annoys you most when you use the flashlight? As when it unloads at a critical moment. That is why our flashlight as a light source has a CREE XPE LED. This is not spotlite, but even with the strongest lighting mode, it operates for a minimum of 10 hours with one battery.
Rain and puddles in the open air? No problem. The reliability of the flashlight is guaranteed by a high quality rubber seal protecting the diode and access to the battery.
We have not forgotten about the comfort of using aluminum, light housing and a very comfortable, pressed flashlight switch. It is super narrow, thanks to which the flashlight fits perfectly in the hand. It is also light and short, for those who like to hold the flashlight in their teeth.
One of the goodies - three lighting modes - strong, medium and strobo.
We recommend buying a flashlight with a dedicated case/cover in the form of a holster fitted to the belt of trousers.
Specification:
light source: CREE XPE,
voltage: 1,5 V,
light intensity (lumens): 80 lm,
lens material: PC,
housing material: Aluminum Alloy,
battery type: 1-Cell AA battery (excluded),
run time High: 10

hours

,
effective range: 40 m,
dimensions: 10,2 x 2,5 x 1,6 cm,
weight: 43,5 g,
modes of operation: Mid/High/Flash (stroboscope),
LED operation time: 100 000 hours.
Instructions:
The flashlight is equipped with a Multi-Mode switch - every time you press the ON/OFF switch quickly, the mode changes from High (100% power) to Mid (30% power), and then to Flash (stroboscope).
Warning:
Corrosive solutions or gases may leak from any batteries. If the flashlight is not used frequently, remove the batteries and store them separately. Use alkaline batteries manufactured by recognized brands. Follow the battery manufacturer's instructions for proper battery handling, storage and disposal.
This is not a toy for children.
Danger:
Do not direct the flashlight directly into your eyes, it may damage the retina.
2 years guarantee.
The guarantee does not apply to normal material consumption, exhausted batteries, battery leakage, LED burnout or LED module failure.