1-Cell AA LED gafer.pl headlight
Krzysztof Białobrzewski "the flashlight's designer" with satisfaction presents the headlamp gafer.pl LED, which was created so that the dark when working on the stage ceased to be an obstacle.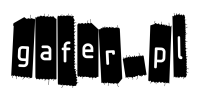 Easy return of products within

14

days from the date of purchase without giving reasons
Working on stage is a continuous journey, assembly, art, disassembly, travel, assembly, art, disassembly and so on and on.  The disassembly seems to be cool, but we do it when we are tired, in the dark and sometimes in the rain. Sometimes it's hard. It is therefore important to invest in something that makes work easier. This something is undoubtedly the headlamp. Whoever never stumbled in the dark does not know.
Gafer.pl LED headlamp has a lot of thoughtful solutions - powered by an AA battery (big stick). Why such? Because it is always available in a wired or wireless case.
Light source, CREE XPD LED + 2 pieces of SMD. Why such? The XPD LED gives a sufficiently strong light and has two lighting modes: medium and strong. Works with one battery for a minimum of 5 hours (strong mode). However, red SMD (diode) causes the headlamp user to see, but he/she cannot be seen. In this option one battery provides a minimum of 8 hours of uninterrupted operation.
The headlamp is very light and comfortable, because the casing is made of ABS material. It is equipped with an adjustable, flexible, detachable headband and a large, comfortable, push-button switch. It also has a rubber gasket to protect the diode and access to the battery against rain and dust.
Specification:
– light source: CREE XPD+2pcs SMD red,
– voltage: 1,5 V,
– light intensity (lumens): XPD-70 lm,SMD-20 lm,
– lens material: ABS,
– battery type: 1-Cell AA battery (excluded),
– run time High: XPD-5 hours, SMD-8 hours,
– effective range: 15 m,
– dimensions: 6,4 x 3,6 x 2,7 cm,
– weight: 45,7 g,
– modes of operation: XPD – Low/High, long press ON/OFF switch 2 SMD,
– LED operation time: 100 000 hours.
Instructions:
The flashlight is equipped with a Multi-Mode switch - every time you press the ON/OFF switch quickly, the mode changes from High (100% power) to Mid (30% power), and then to Flash (stroboscope).
Warning:
Corrosive solutions or gases may leak from any batteries. If the flashlight is not used frequently, remove the batteries and store them separately. Use alkaline batteries manufactured by recognized brands. Follow the battery manufacturer's instructions for proper battery handling, storage and disposal.
This is not a toy for children.
Danger:
Do not direct the flashlight directly into your eyes, it may damage the retina.
2 years guarantee.
The guarantee does not apply to normal material consumption, exhausted batteries, battery leakage, LED burnout or LED module failure.