Pocket Pro Gaff Pro Tapes fluorescent gaffer tape
Truly one of the strongest and most visible Gaffer/cloth tapes we've ever sold. UV reactive colours glow under UV/Black Light. Pro Gaff is a matte cloth tape with a rubber based adhesive system.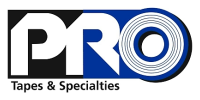 Easy return of products within

14

days from the date of purchase without giving reasons
Temporary holding of light fixtures, wire and cable hold down, marking and labeling equipment cases. High visibility colors for marking of stairs, exits or sets. Dance floor splicing and bundling of cables.
Features
Printable
Quick Stick
Good Adhesion
Good Tensile Strength
Short Term, High Temperature
Resistance
Clean Removal
Outdoor Use
Highly Conformable
Hand Tearable
Easy Unwind
Good Abrasion Resistance
Weather Resistant
IMPORTANT! What is the difference between fluorescent and photoluminescent tapes?
Sometimes it happens that it is difficult to distinguish between these two concepts. To avoid confusion when choosing our tapes - we hereby dispel any doubts:
Photoluminescent tape (another product available in our store!) emits light when it absorbs energy from visible light, ultraviolet and infrared. While fluorescent tape (this product!) does it only in ultraviolet light. What does it mean? The fact that the photoluminescent tape will shine at night, when we previously irradiated it with an ordinary light bulb, In order for the fluorescent one to be visible in a dark room, it is necessary to interact with the UV lamp in that place.
Therefore, when choosing a fluorescent tape, remember to use it as a reflective marking in total darkness, as you need ultraviolet light!