fluo gafer.pl fluorescent gaffer tape
This has never happened before.
You know our gafer.pl tapes? Now we add fluorescent tapes to our known and valued material tapes! An absolute must have of this year!
Fluorescent fabric tape, 25 m long and 24 mm wide, in four vivid colors.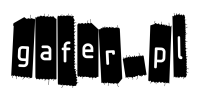 Easy return of products within

14

days from the date of purchase without giving reasons
It is cheaper in a set!
73,95 zł
(Cheaper in the set by 6.27%)
69,31 zł
See the set
After the huge success of our gafer.pl tapes in standard black and white colors, the time has come to expand our offer with fluorescent tapes! They are characterized by the fact that they shine in black light (UV), making them ideal for marking poorly lit places. Our no-residue gaffa fluo can be easily tear by hand.
The fluorescent gafer.pl tape is available in a length of 25 m and a width of 24 mm and as many as four distinct colors: yellow, green, pink and orange.
It is an essential product in every case. Try it today!
IMPORTANT! What is the difference between fluorescent and photoluminescent tapes?
Sometimes it happens that it is difficult to distinguish between these two concepts. To avoid confusion when choosing our tapes - we hereby dispel any doubts:
Photoluminescent tape (another product available in our store!) emits light when it absorbs energy from visible light, ultraviolet and infrared. While fluorescent tape (this product!) does it only in ultraviolet light. What does it mean? The fact that the photoluminescent tape will shine at night, when we previously irradiated it with an ordinary light bulb, In order for the fluorescent one to be visible in a dark room, it is necessary to interact with the UV lamp in that place.
Therefore, when choosing a fluorescent tape, remember to use it as a reflective marking in total darkness, as you need ultraviolet light!
Adhesive lifetime: 1 year from date of purchase.